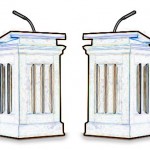 With contested elections this year to represent New York's 37th Senate District and to serve on the Mamaroneck Village Board of Trustees, the League of Women Voters of Larchmont/Mamaroneck will host a candidate forum on Wednesday, October 8th at 7 p.m. at the Town of Mamaroneck Courtroom, 740 W. Boston Post Road, Mamaroneck.
Candidates in uncontested elections will also make brief presentations.
The following are slated to appear:
US Congress (District 16):
Eliot Engel* (Democrat, Working Families)
NY State Senate (37th District):
Joseph Dillon (Republican, Conservative, Independence); George Latimer* (Democrat, Working Family)
NY State Assembly (91st District):
Steve Otis* (Democrat, Independence, Working Families)
Town of Mamaroneck Council Member:
Thomas Murphy (Democrat)
Village of Mamaroneck Trustee (Elect 3):
David Finch (Democrat), Leon Potok* (Democrat), Ilissa Miller* (Democrat), Michael Ianniello (Republican, Conservative, Independence), Maggie-Leigh O'Neill (Republican, Conservative, Independence), Stefanie Lividini (Republican, Conservative).
"Without a presidential race this year to attract attention, the League of Women Voters is particularly concerned with making sure voters have opportunities to learn about the candidates and the issues," said Diane Drew, LWV-LM Co-president. "The debate may be the only time citizens get to see the candidates side by side addressing the issues important to local voters."
To ensure impartiality, the debates are moderated by a LWV member from outside the Larchmont-Mamaroneck area. The order of candidates' presentations is chosen in advance by drawing lots.
Do you have a question you would like addressed? Questions will be accepted from the audience in written form 15 minutes prior to the start of each debate. The League requires you to be in the audience when your question is asked.
The forum will be broadcast live on LMC-TV beginning at 7:30 pm on Cablevision Channel 76 and Verizon Channel 35. It will also be streamed live at lmctv.org. To view re-broadcasts of the forum, check lmctv.org for a schedule or for video on demand.