League of Women Voters' Annual Luncheon
Friday, April 21, 2017, Noon-2:00
Orienta Beach Club
1054 Walton Avenue, Mamaroneck, NY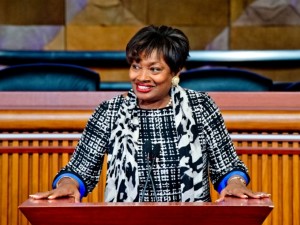 Speaker: New York State Senator Andrea Stewart-Cousins
"Political & Policy Issues on National & State Levels of Government"
Sponsored by the League of Women Voters of:
Larchmont-Mamaroneck
New Rochelle
Rye, Rye Brook, Port Chester and Harrison
TO RESERVE YOUR PLACE FOR THE 2017 ANNUAL LUNCHEON BY THE APRIL 14 DEADLINE
The cost of the luncheon ticket is $60. There are no physical tickets; your name will be added to a list of attendees to be checked as you enter.
BY CHECK
Make check payable to "LWVLM"
Mail to: LWVLM, P.O. Box 811, Larchmont, 10538
$25 of your check payment is tax deductible.
BY CREDIT CARD or PAYPAL:
 Use the drop down menu below to indicate your league, or choose "none of the above"
 Then hit the "buy now" button
 To buy more than one ticket, change the quantity on the check-out page
 To pay with a credit card, on the check-out page, click on the "don't have a PayPal account" option
 Your credit card payment is not tax deductible.